Cosen SH460M
Semi Automatic Mitering Horizontal Band Saw
Cosen SH460M Structural Material Cutting Band Saw offers precision, effeciency in operation,
lower cost per cut, and durability of this heavy duty band saw for a demanding production environment.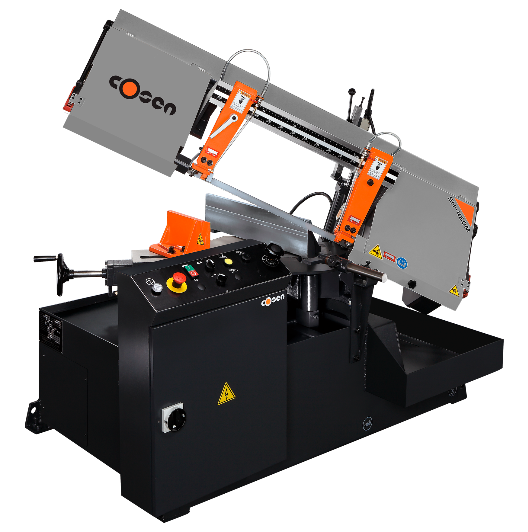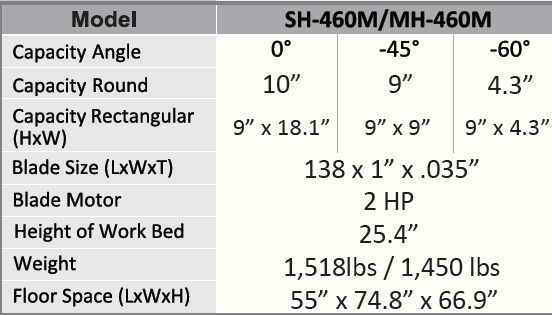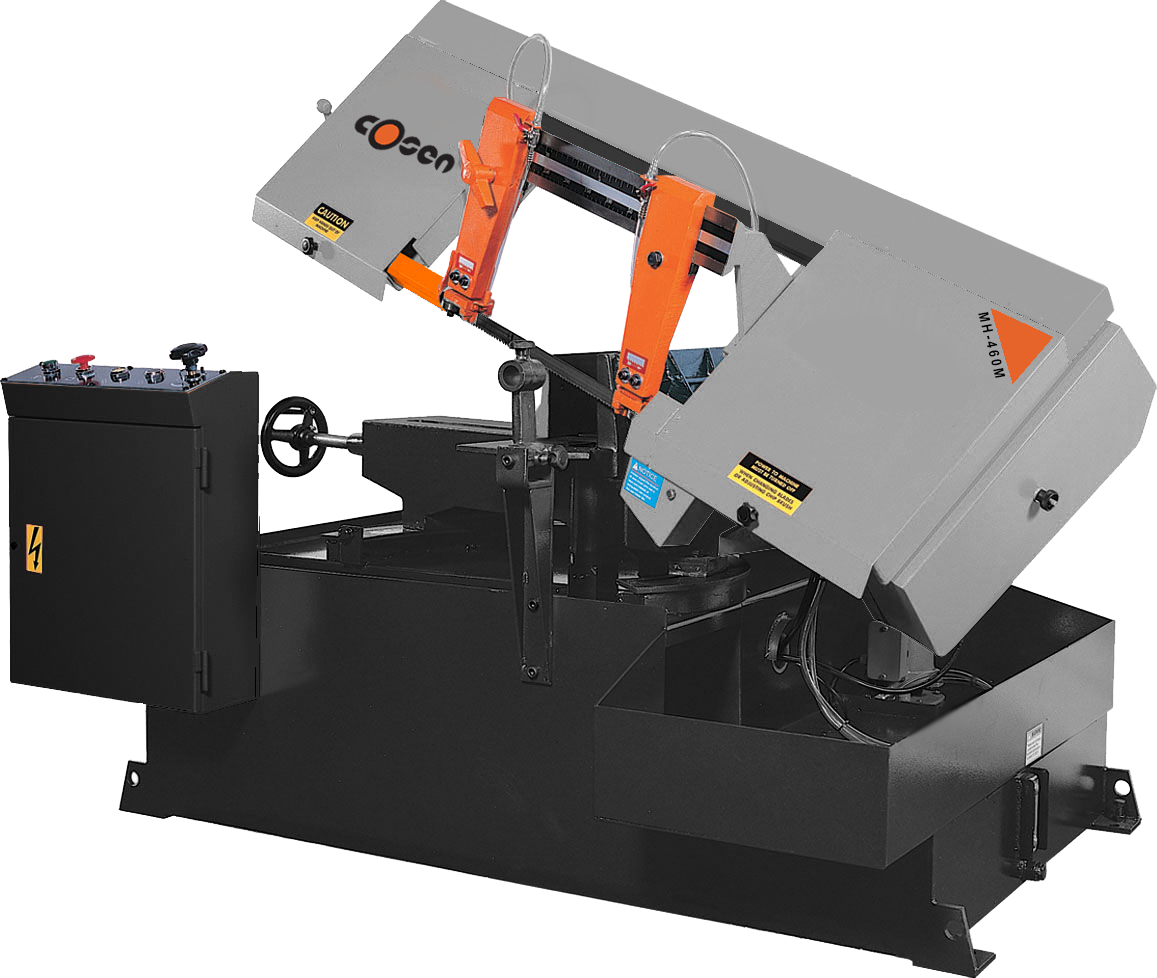 Machine Structure & Design:
Oversized hydraulic cylinder plus precision ground hinge support guide the rugged saw frame through the entire cutting cycle. Special wear resistant DU busing is used to ensure durability and long use life.

Specially designed heavy duty cast iron swivel center features straight and miter cuts from 90 to 30 degrees (backwards) with quick setting and precise positioning. It enables smooth turning of the saw frame for each angle viable via the large easy-to-read mitering scale. Turn table for material support swivels automatically at miter adjustment.

Large rugged base with built-in coolant & hydraulic system offers both sound stability & all-in-one convenience.
Blade Drive:
A 2 HP Motor, heavy-duty reducer, and variable step drive assembly with excellent mechanical design feature th essentials for production cutting.

The 4-speed transmission is equipped with the best worm gear speed reducer. The worm shaft is hardened and ground. Together, they provide quiet, powerful, and trouble-free drive.
Blade Guidance & Lubrication System:
Carbide blade guides with roller bearings pre-align the blade before entering carbide blade guides. This feature reduces wear on blade guides and blade, thus enhancing blade life.

The rigid guide arms are mounted on an extra wide precision ground dovetail slide for more solid and supportive surface. The rigid design owes to use superior cast-iron which greatly reduces vibration and achieves better cutting result.

Two additional guides located on a central axis support the blade from the top, giving it extra penetrating force. The carbide guides are relieved to allow coolant flow to lubricate and cool the blade as well as work piece.

Integral coolant system. Blade brush to remove chips.
Control & Automation:
The feed rate control valve may be adjusted by setting the dial between 0 and 10 via the hydraulic down feed valve. The vast range of adjustment allows proper setting which results in longer blade life, shorter cutting times, and beter finishes.

Built-in hydraulic unit includes motor, pump, and hydraulic tank
(SH-460M Model) to offer the convenience of raising the saw head automatically after cut-off. This advanced built-in design with quality components will bring you noiseless and hassle-free operation.
A work height selector is located over the hydraulic cylinder and is used to adjust the blade to minimum clearance height over the work.

The control panel is clearly arranged and conveniently located on front of the machine, eliminating the need for the operator to reach over a moving blade.





Cosen SH460M/MH460M Horizontal Miter Saws Info/Request Form